Kit Car Scissor Door Hinge Style 3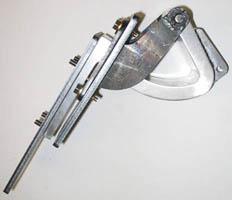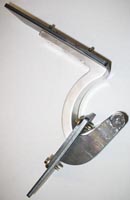 Click the image for a closer look.
This a hinge style designed to fit most scissor hinging kit car bodies. When properly installed, this kit allows the door to swing open by up to seventy degrees. This hinge kit includes stainless steel mounting bolts and backplates for fiberglass reinforcement. One pair provides hinges for two doors. This hinge features a slimmer design so it can fit a wider variety of kit car bodies. The flange plate and mount plates are steel, the swing arm is billet aluminum with oil impregnated bronze bushings around a hardened steel pivot rod.
This design will work on most scissor-hinged kit cars.
To order, paying with a credit card, call with a full description, and part numbers if Vintage Air or Walker parts are desired. Please do not email a credit card number. We accept Visa, MasterCard and American Express cards.
Thank you for stopping by. New products may arrive on a monthly basis, so please visit again. We can also make custom variations on products we have. If we can be of service to you, please let us know.
This website supports most modern web browsers. If you are having any trouble, please let us know.
Last updated 15 Apr., 2013.