Street Rod Products
---
---
Our product and price list for many of the parts we sell is here:

---
Street Rods:
We do custom work pertaining to street rods, classic and custom cars. Talk to us if you would like your custom car work done professionally and with the proper equipment. We make custom parts on a regular basis to fit specific needs.
Street Dreams Car Gallery:
Please click here to look at our photo gallery!
Shift Indicator:
Our shift indicator product has been discontinued.
Door Hinges:
We have suicide door hinges and hidden door hinges available for converting cars with conventional door hinges or for upgrading existing suicide door hinges by replacing them with better looking and better working parts.
Hood Vents
We have hood vents designed for street rods and other cars with vertical hood side vents. Please click here to see more!
Specialties:
We specialize in high quality auto and truck customizing. We also perform air conditioning retrofits, repairs and installations on classic cars and street rods.
Air Conditioning:
Street Dreams By Ross, L.L.C.TM is an authorized Vintage AirTM dealer and is certified and properly equiped for air conditioning work. We can sell and install Vintage AirTM air conditioning equipment into street rods and other old cars that do not have air conditioning equipment. We are capable of handling R12 and the newer, more environmentally friendly R134a refrigerants. Special Internet and mail order pricing - 10% off Vintage AirTM catalog list prices with pre-payment! Installation is not included in the pricing and is quoted separately. Please also visit the official Vintage Air web site!
Radiators:
We also sell the quality WalkerTM line of Radiators. Special Internet and mail order pricing - 10% off WalkerTM catalog list prices with pre-payment! Installation is not included in pricing and is quoted separately.
---
GM Small Block V8 Serpentine Drive Components
Serpentine drive components are available. We offer a harmonic balancer, tensioner, A/C compressor pulley, and two kinds of idler pulleys (smooth or multi-grooved) needed to arrange accessories in a serpentine drive arrangement on a GM V8 small block engine for fitting into the Fiero or a streetrod with limited engine bay clearance.
We also offer an engine cradle for the Fiero which has a couple of ears on it so that you may mount the A/C compressor.
GM Throttle Body Top Plate Gasket Product in Web Store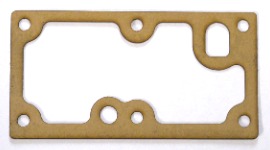 The GM Throttle Body custom gasket is precision laser cut from 1/64" Fel-Pro™ gasket material. This gasket is not available separate from a large gasket kit anywhere else.
Luma FLEX LED Lights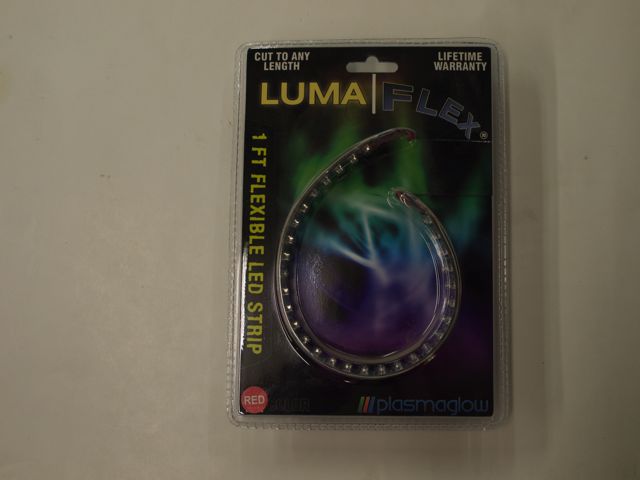 Add these LED light strings to light up your ride!

Choose from four different colors (Red, Purple, White, and Green) distinguish your ride from everyone else.

Flexible 12 inch cut-to-fit lengths allows creativity in light placement.

Stainless Steel Door Strikers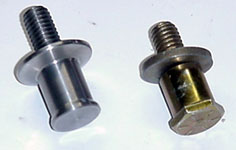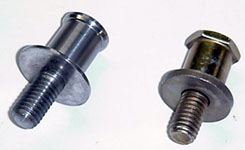 These are replacements for the standard coated steel door strikers found on most vehicles, two comparison pictures are shown above. This version of our door strikers feature a safety ridge on the end to maximize safety when used with bear-claw style door latches. The thread on this version 7/16" coarse.
Ball Stud Mounts



These mounts are intented to mount the pivot ball of a gas shock at a 90 degree angle from the surface it is mounted to. It can be used for any application that uses gas shocks to hold a door, hood or trunk lid open. The piece is made of aluminum with a brush finish, mounts to a panel using included nuts, washers and stainless steel studs. The shown ball stud, socket and gas shock are not included. The mount is 3/4" tall, 3/4" wide and 1 1/4" long. It holds the ball stud about 1/2" from the surface that this part is mounted to.

Shift knobs:
We have a new line of shift knobs designed for street rods. It is styled to match the typical aluminum control knobs in many street rods. They include a removable and engravable top plate. Most standard shift patterns are available at no extra charge, please specify when ordering. For custom engraving, please contact us.


Click here to see our design varieties.

Dash Face Inserts:
Street Dreams By Ross, L.L.C.TM has a line of aluminum dash inserts for street rods! The current designs are intended for the inset in many '32 Ford dashes, but they will fit any opening or flat area that is 5" tall by 12 1/8" wide or larger. These dashes include mounting hardware, but do not include guages, lights or shift indicators. The guage holes are designed for the 2 1/16" and 3 1/8" size standards, and the mini LEDs and shift indicators can be purchased from Ron Francis' Wire Works.

Click here to see a sample of our designs.
Early 50's Ford Radio Speaker Mounts:
Designed to hold a 6 x 9 speaker, this is a laser cut replication of a rare radio speaker mount.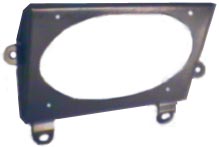 Custom Machining:
We can custom build many parts from aluminum, plastic and steel, for auto and other applications. Street Dreams By Ross, L.L.C.TM has done sill plates, louvers, hinges, brackets, dress-up items, keychains. We can also put nearly any logo or engraving on any machinable material. Please remember that many logos are copyrighted and written permission should be obtained before contacting us.
Unmachined aluminum extrusions:
We have stock of hard-to-find aluminum tubing extrusions in 6061-T6 alloy, in round and square shapes. Please check out our aluminum page. We can sell the raw material and we can also custom machine parts to spec. Please contact us if you have any questions.
---
Pricing and Ordering:

| | |
| --- | --- |
| Our product and price list for many of the parts we sell is here: | |
To order, paying with a credit card, call with a full description, and part numbers if Vintage Air or Walker parts are desired. Please do not email a credit card number. We accept Visa, MasterCard and American Express cards.
If you wish to mail your order, please print this form, fill it out and mail it to us.
---
Thank you for stopping by. New products may arrive on a monthly basis, so please visit again. We can also make custom variations on products we have. If we can be of service to you, please let us know.
Please click here to go to our home page.
Hours: Monday through Friday, 8am to 5pm, Eastern Standard Time
Contact info:
All trademarks and copyrights are property of their respective owners. Everything else on this site ©1999-2010 Street Dreams.

This website supports most modern web browsers. If you are having any trouble, please let us know.

Last updated 18 Apr., 2013.